There's nothing we love more than planning our honeymoon – and we kinda hope we could get married over and over again so that we can go on even more epic adventures (alas, our husbands and wives probably wouldn't agree to that). Choosing to go on your honeymoon in April can be a great idea for those who live in England because they don't call them 'April Showers' for nothing. If you're planning a honeymoon in April, it's best to choose areas in the South Pacific and Asia, as they are entering the dry season (as we're entering the wet season). Here are a few options to stick on your honeymoon hit list:
Thailand
Let's be honest; modern day life can be pretty dull. If you work in the city, your life is probably full of skyscrapers, grey skies (the sun rarely appears in England) and your boring 9-5 job. So when you're choosing your honeymoon destination, you just have to treat yourself and go somewhere exotic. And where's more exotic than Thailand?
Thailand is full of tiny little islands that can serve as the perfect resting spot for you and your new husband and wife. There are beautiful beaches, luscious rainforests, Buddhist temples, floating markets and more. So if you're not sure whether you want relaxation or a sense of adventure, Thailand is the perfect mix of both. With an average temperature of 32 degrees Celsius, you can have the time of your life.
St. Vincent
If you're looking to spend your first newlywed moments in a chic and sophisticated beachfront location, St. Vincent is a definite contender for your April honeymoon. Located in the Caribbean, St. Vincent is a playground for the rich and famous – with beautiful golden sands and deserted beaches, and historic harbors filled with expensive yachts. Just because St. Vincent looks expensive doesn't mean it's expensive to visit, so it's perfect for honeymooners on any budget.
This is a luxurious location to laze on the beach or explore the surrounding volcanic landscape with your newly betrothed. Want our advice? You just have to go snorkeling in the crystal clear waters of St. Vincent, so why not add it to your flyustothemoon.com honeymoon registry so one of your wedding guests can treat you?
Malaysia
Sometimes you just really want to explore somewhere totally different – and your honeymoon could be the best time to do this. Malaysia is a lesser-known honeymoon destination, but one that is becoming increasingly popular as newlyweds realise just how awesome it is (trust us, it's pretty awesome). The average temperature for Malaysia in April is around 33 degrees Celsius, so you don't need to worry about packing your cardigan!
To see the true Malaysia, we'd recommend staying in Kuala Lumpur. As the hub of Malaysian culture, there is everything from glass skyscrapers (including the Petronas Twin Towers) to historical caves, to tree-laden hills and religious temples.
Borneo
As you can probably guess, Asia is an April honeymoon hotspot – because there are just so many places to visit! One of the most incredible destinations is Borneo. Some people reject Borneo as a honeymoon location, but we're all for it. This rugged island is one of the most diverse islands in Asia, which means there really is something for everyone there. On one side of the island, you have dense rainforest laden with exotic animals and species. On another side, you have Maldives-esque luxury huts in the middle of the aquamarine ocean.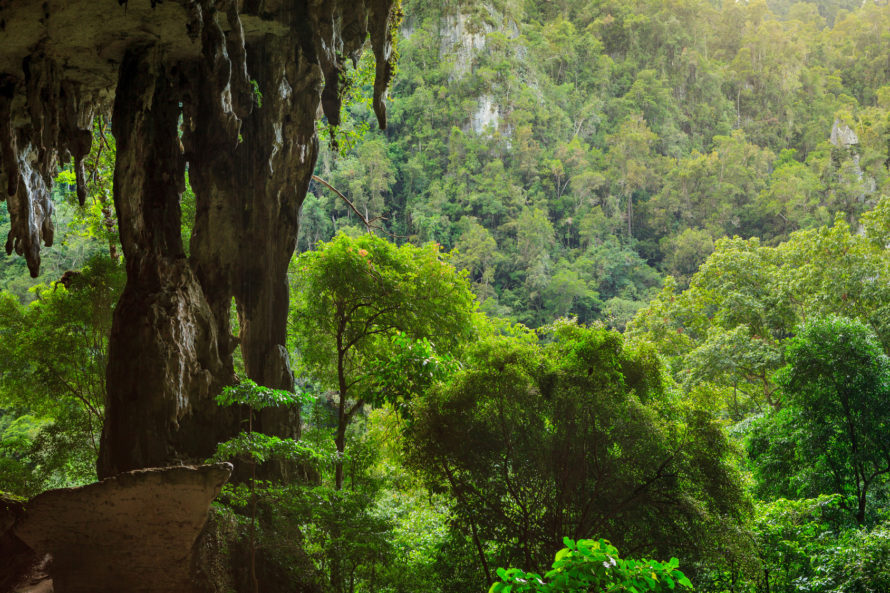 And then there's everything in between that just has to be explored. April is one of the best times to visit Borneo as the temperature averages around 28 degrees Celcius, so you'll definitely be able to leave with a good ol' tan. We'd suggest going on a boat trip around some of the more exotic islands, so add it to your flyustothemoon.com registry and have the stress of paying for your trip taken away from you!
April isn't the best month of the year (sorry to break it to you), but there is a way to enjoy your April honeymoon – if you just know where to go!